Contract-Free Wireless Gym Alarm Systems
Established in 1986, MDH Wireless offers fixed location wireless emergency alarms for public-facing and lone working employees in leisure centres, sports halls, fitness studios, gyms, and university or school sports complexes across England, Wales, Scotland and Ireland.
Our wireless gym alarm system is a cost-effective way to manage your employees and patron's safety. It is not only contract-free with no monthly subscriptions but also quick and easy to install with no cabling or network system access required ensuring minimal disruption.
Wireless alarm equipment for gyms includes:
Wearable waterproof SOS pendants, pagers and clip-on transmitters for fitness instructors and trainers
Emergency panic alarm buttons
Wall transmitters/Decorative transmitters
Remote siren – for the gym, changing rooms or reception
8 channel panel receiver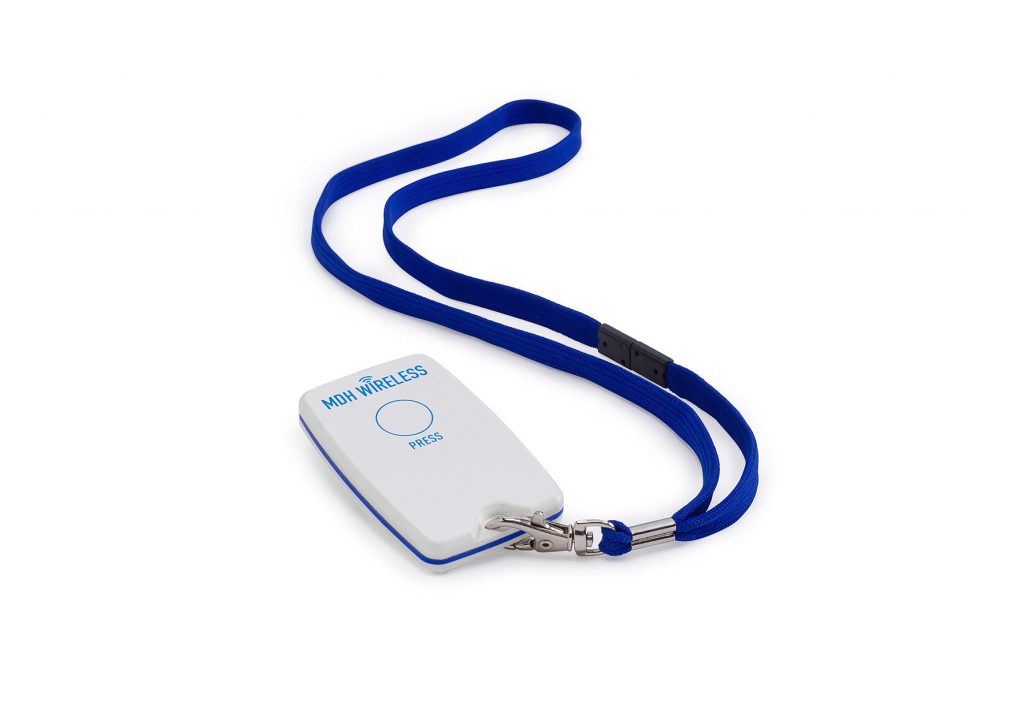 The wireless transmitters alarm units are battery-powered so there's no need for any cabling which means the system is flexible and can be scaled up or moved as your needs change. All equipment conforms to the UK licensing requirements and CE approvals.
Call 01280 845530 or email info@mdh-uk.co.uk to book a free, no-obligation site survey where we can test the range and give you a demonstration of the system.
Why Choose a MDH Wireless Alarm for your Gym or Fitness Centre?
Fit for Purpose. Ensure the safety of your staff and patrons with an alarm system designed and manufactured especially for the leisure, hotel, fitness and spa sectors at our head office in Brackley.
Peace of mind. As UK manufacturers we're on hand to guide you through selection, purchase and installation process. Includes a one-year return to base warranty as standard so you can rest assured we support your system now and in the future.
Flexible quality system. Our modular wireless emergency response alarm systems are flexible with incredible range potential and can be scaled up or down as needed.
So, for a stable, cost-effective alarm system that has been tried and tested in many settings including leisure centres, theme parks, fitness centres, hotels, universities and schools – choose an MDH Wireless alarm!
Three Alarm Activation Options for your Gym…
Waterproof Wall Transmitter: We have two types of wall buttons we can offer, a latch in-wall transmitter or a stainless-steel momentary button When the button is pressed, a radio signal is transmitted. These devices are ideal for poolside or fitness studios where staff or customers may need to summon assistance
Waterproof Pendant Transmitter: The portable waterproof pendant is ideal for lifeguards and gym staff who need to summon assistance urgently in the event of an emergency.
Lone Worker Transmitter: The member of staff carries the lone worker transmitter, either in their pocket or clipped to their belt. This device also offers a 'tilt switch' function so if the transmitter is tilted at over 60 degrees from standing, simulating someone being on the floor or unconscious, the transmitter will go into a 15-second countdown
Gym Alarm Receiving Options…
Once any of the transmitters have been activated, this can be received by….
The Remote Siren Strobe: provides an audible and visual alarm to alert staff or the public in the event of an emergency. We can add as many of these devices in the system as requires and can position the sirens in alternative locations around the leisure centre such as poolside, gym, staff room, managers office etc, to allow us to pick the alarm in alternative areas. We offer a 106dBA and a 120dBA high output siren.
The 8-channel Central Receiver: a wall-mounted unit, featuring a number of indicators, a sounder and a reset button. Upon receiving an alarm signal, the corresponding indicator illuminates, and the sounder starts. The alarm is cancelled when the reset button on the receiver panel is pressed. We would usually recommend the central receiver is located in reception. A 28-channel central receiver is also available or larger, more complex organinations that have a number of different zones.
Pagers: if your gym's reception area is not always 'manned' we offer a paging transmitter option which allows members of staff to be instantly alerted remotely wherever they are on the premises via the audio and vibrate function showing a displayed message. This would allow duty managers or first aid staff to be instantly aware of an emergency wherever they are onsite via the displayed message and audio and vibrate function.
Power Requirements – the transmitters are all battery operated and the central receivers and remote siren strobe require a 240VAC supply, these devices are supplied with a standard UK 3-pin plug although, we recommend these be wired into an unswitched fused spur.
Once the receivers have mains power, they will wirelessly receive the radio transmission.
Request a Free Site Survey for your Gym Alarm…
Ask about our free, no-obligation site survey to demonstrate the alarm and test the range of the wireless system to see which alarm components will be most effective for your needs.
Or if you are interested in finding out more about our lone working and fixed location wireless emergency alarms call us on 01280 845530 or email info@mdh-uk.co.uk