Workplace Wearable SOS Devices Specialists
At MDH Wireless our two wearable SOS panic alarms provide a discreet, quick and easy way for your public-facing or lone workers in a fixed location to raise an alarm.
Our SOS devices are small, lightweight and robust. Ergonomically designed, our stylish SOS transmitters can be worn in a variety of ways and accessed in a hurry. As part of a wireless system that uses radio waves, they provide a stable, cost-effective way to call help quickly in an emergency.
Contract-Free, Wearable SOS Alarm Options:
Clip-On SOS Lone Worker Alarm Device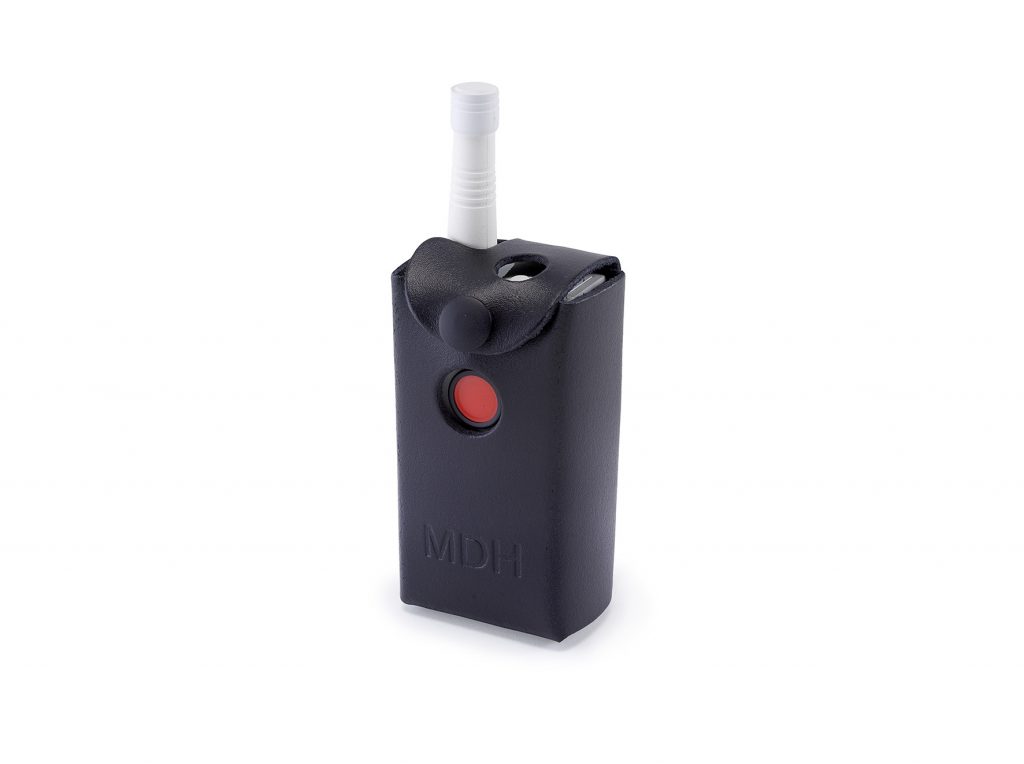 This robust, man down SOS device can be carried in a pocket, clipped onto clothing or a belt. It can be worn in the carrying pouch (supplied). Ergonomic buttons enable the lone worker to easily call for help or the built-in fall detection automatically triggers an alarm if the lone worker collapses or is injured.
Technical Details:
Weight 100g
Dimensions 50mm x 150mm x 28mm (including aerial)
Battery 1 x 3.7V – ½ AA – Lithium Thionyl Chloride, 40mA continuous current, 1000mAh
Power 150mW maximum EPR
Transmitter 458.850MHz
25KHz channel spacing EN 300 220-3 compliant
Wearable SOS Pendant Alarm Device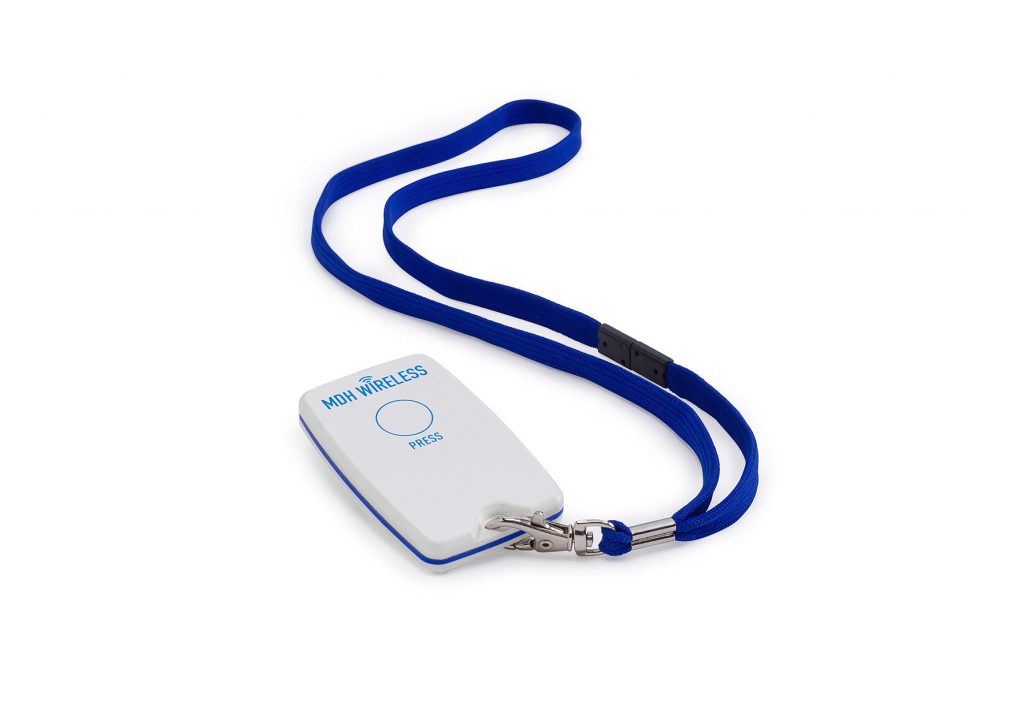 This lightweight, stylish, waterproof SOS pendant device is designed to raise an alarm back to a central point. Usually used as a necklace, it is easy to use – simply press the button on the front of the device to send an alarm signal to the central receiver.
Technical Details:
Weight 50g
Dimensions Length 85mm, Width 55mm, Depth (excluding button) 12mm
Batteries 1 x 3.0 – CR2450 – Lithium
Transmitter 458.850MHz
15mW maximum EPR
EN 300 220-3 compliant 25KHz channel spacing
The SOS alarm devices use long-life batteries (in excess of five years with typical use of one activation per day), however, the battery should be renewed every two years as a minimum. The devices are supplied with the battery fitted.
Check out our alarm system FAQs or the technical information for the alarm system.
How Does a Wearable SOS Device Work?
A wearable SOS device works by using radio waves to transmit a signal in the event of an emergency in fixed location workplace settings. Once the alarm is activated, either manually by pressing the button or automatically via the tilt/ man down technology in the lone worker alarm transmitter, it is picked up by the wall-mounted central receiver (which has a number of indicators, a sounder and a reset button). Each transmitter has a different channel to identify which device's alarm is sounding. The alarm is cancelled when the reset button on the central receiver is pressed.
There are 2 other options available for raising the alarm onto designated remote third parties:
1. If there is not anybody to pick up the alarm on-site, we can connect an auto-dialler to the central receiver, via the outputs at the bottom of the panel. This then dials out to a list of pre-programmed phone numbers, with a pre-recorded message requesting assistance. FYI we can either integrate analogue or GSM diallers into the system. If we can locate the dialler near an ordinary analogue phone line (e.g., a fax line or domestic phone line), this will then ring out on the landline number of the premises. However, if there is no analogue line we can access, we can use the GSM dialler that runs off a sim card.
2. Alternatively, if you would like to pick up the alarm remotely around the premises, we can have a paging module installed on the central panel. So, once an alarm has been triggered the panel will go into alarm as usual, however, it will then broadcast out another radio signal that will be received by a remote pager. This will then show a displayed message of the device/area that has been activated, via audio and vibrate function. This is good for members of staff being able to pick up the alarm wherever they are around the premises and to be instantly aware of the emergency.
MDH Wireless wearable alarms are used extensively in hospitals, offices, warehouses, spas, fitness and leisure centres across the UK.
Request a Free Survey for your Wearable SOS Device System…
Ask about our free, no-obligation site survey to demonstrate the SOS device and test the range of the wireless alarm system to see which alarm components will be most effective for your needs.
We can help meet your health and safety obligations to your public-facing employees and lone workers. So, for all your alarm requirements, call the experts on 01280 845530, email info@mdh-uk.co.uk or complete the form below.