Contract Free Panic Alarm System for Hospitals
Established in 1986, MDH Wireless is the go-to provider for UK private and NHS healthcare settings to help ensure that their fixed location lone and public-facing workers have the means to raise an alarm either manually or automatically.
How Does a Wireless Hospital Panic Alarm System Work?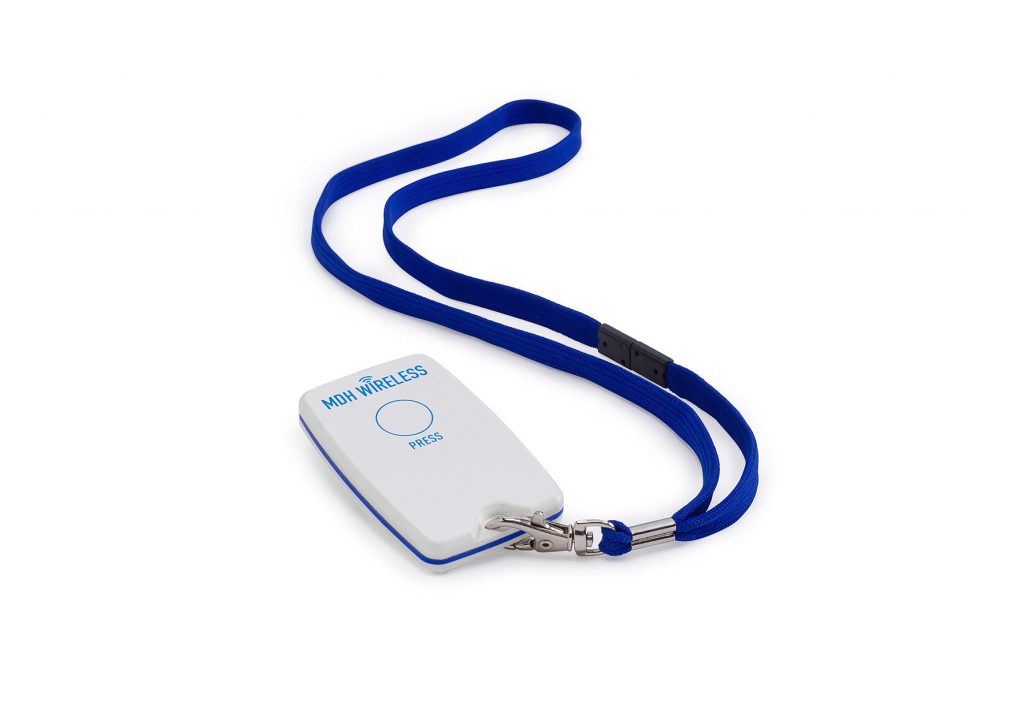 A wireless hospital panic alarm system works by using stable radio waves to send a signal to raise an alarm. It is a cost-effective way of raising an alarm in an emergency at a fixed location because no internet access is required. Alarm buttons can either be worn by nurses and doctors like a pendant or carried in their pockets to send out a distress signal.
Alternatively, they can be strategically wall mounted in consulting rooms for one-on-one situations, and we offer discreet under desk transmitters to be mounted under desks to activate the alarm.
Key areas in hospitals for panic alarms:
Reception desks
Hospital pharmacy counters
Emergency room entrances
Secure units
Disabled toilets
The panic alarm system comprises of one or more transmitters, which are either carried or worn by the workers, or wall or desk mounted which when activated, sends an alarm signal back to a central receiver. We offer 2 other options to raise the alarm onto designated remote third parties:
Either connect an auto-dialler which dials out to a list of pre-programmed phone numbers with a pre-recorded message requesting assistance.
Or via a paging module installed on the central panel. Once an alarm has been triggered the panel will broadcast out another radio signal to a remote pager.
Check out our panic alarm system FAQs
Why use a MDH Wireless Panic Alarm System?
Effective, stable alarm systems that have been tried and tested in many different healthcare settings including in private and NHS hospitals, doctor's surgeries, secure units, stockrooms, clinics and medical offices.
Flexible, scalable system that has a large range potential which can be scaled up or down with components added or removed as your needs change.
User friendly, perfectly suited to help safeguard public facing and fixed location lone healthcare workers.
Our panic alarm system is manufactured in the UK at our headquarters in Brackley, Northamptonshire. We pride ourselves on the quality and reliability of our alarms, and that we have the expertise and stability to support you and your alarm system now and into the future.
Request a Free Survey for your Panic Alarm System…
Ask about our free, no-obligation site survey to demonstrate the alarm equipment and test the range of the wireless system to see which alarm components will be most effective for your needs. We can guide you through selecting the best options for your organisation. So, you can rest assured that your public-facing employees, lone workers, and patients are kept safe and your health and safety obligations are met.
So, for panic alarms, wearable response alarms, wireless emergency panic buttons, and emergency transmitter devices call the experts on 01280 845530, fill in the form below or email info@mdh-uk.co.uk